NFL star safety and FIU alumni Johnathan Cyprien grew up a few blocks away from city hall in North Miami Beach. He doesn't seek to be a hero, but Cyprien has made it a personal priority during the COVID-19 crisis to "give back" to the community from which he came.
On Friday, April 3, Cyprien collaborated with the city of North Miami Beach and Joshua's Heart Foundation to deliver badly-needed groceries and household essentials to pre-selected residents during the coronavirus pandemic. Food items ranged from frozen meats to fresh produce and included other essential items like toilet paper.
"There's a lot of people that either have to work from home or not have a job at all," the 29-year-old said. "Not to mention, there's plenty of kids and single-mother or father households that it's kind of tough for right now because the food in their fridge is finishing quicker than it normally would."
With some families unable to participate in the drive-thru grocery distributions offered throughout South Florida, he thought it was a good idea to get his foundation 'Cypsquad' involved, so he partnered with North Miami Beach and Joshua's Heart's COVID-19 relief efforts.
"Calling the city of North Miami Beach and coming together with Joshua's Heart Foundation and knowing the people they work with in the community, I just knew this was the best way to help give back," said Cyprien.
The former Atlanta Falcons safety joined volunteers from Joshua's Heart, city of North Miami Beach officials and North Miami Beach Police Department personnel in making no-contact deliveries to 426 local families living below the poverty level and without means or ability for transportation.
The city and Joshua's Heart were able to identify these pre-selected households by reaching out to their network of individuals and families who've participated in prior food drives they each have sponsored.
North Miami Beach Mayor Anthony F. DeFillipo indicated that senior citizens in the area are among the most vulnerable during these times.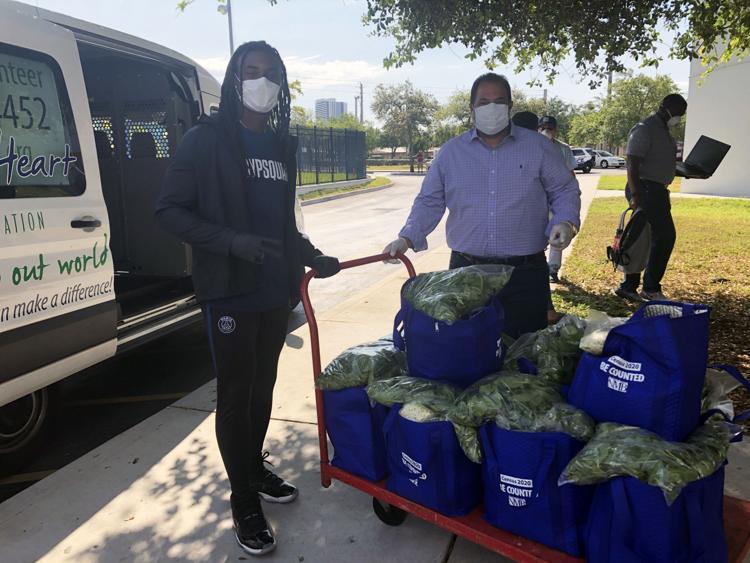 "There's a lot of senior citizens that are in need of help, and the saddest thing about it is that they don't have the source of transportation," said DeFillipo. "So we are able to go out and deliver these meals to them and they don't have to go out of their house or find a way to get out — because most importantly, we don't want them to go out of their house and get infected so it's important that we do this for them.
Yvonne Baptiste is an 86-year-old who has resided in North Miami Beach for 30 years. Her household was one of the first on the list that received food delivered by Cyprien, right to her home's front door.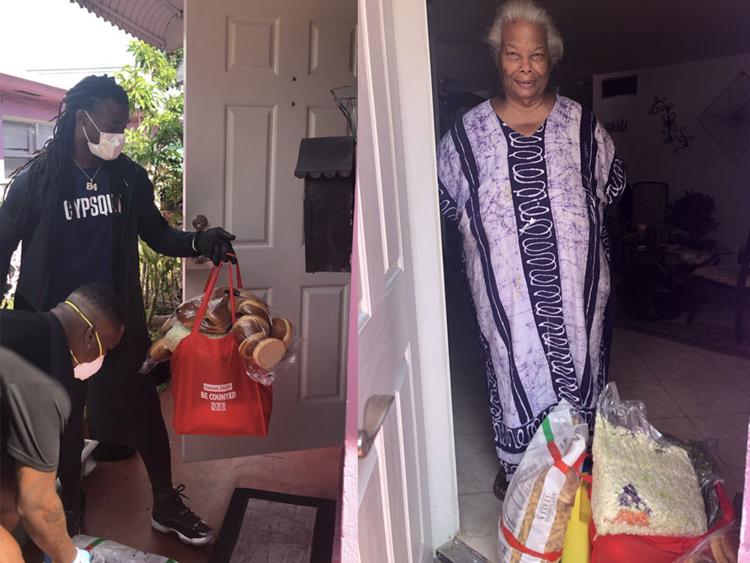 Baptiste was more than grateful to have food and essential items that included pasta, toilet paper, cooking oil, juice. The program's partnership allowed her and other vulnerable population seniors to comply with Gov. Ron DeSantis' "safer-at-home" mandate.
"I don't really go out or go to the grocery store," Baptiste said. "My friend goes for me because I don't have a car. She'll also be happy to know I got them delivered this time; I might even share some with her too."
Generous donations amounting $12,495.47 were made by Cyprien's Cypsquad Foundation and Joshua's Heart Foundation supporters Howard and Stephanie Krass. Food and other essential products were contributed by Broward Meat and Fish, JCS Community Kosher Food Bank and Nick and Teresa Sharp of Threefold.
Source: PR Log
Also reported in…